News
Prof. Keiko Torii receives the 2015 Fellow of ASPB Award
Professor Keiko Torii (ITbM PI, Howard Hughes Medical Institute, and Professor at the University of Washington, Torii Lab) has received the 2015 Fellow of ASPB (American Society of Plant Biologists) Award for her study on the role of receptor-like kinases in plant development and the mechanisms controlling stomata formation.
About the Fellow of ASPB Award
Established in 2007, the Fellow of ASPB award may be granted in recognition of distinguished and long-term contributions to plant biology and service to the Society by current members in areas that include research, education, mentoring, outreach, and professional and public service. Current members of ASPB who have contributed to the Society for at least 10 years are eligible for nomination. Recipients of the Fellow of ASPB honor, which may be granted to no more than 0.2% of the current membership each year, receive a certificate of distinction and a lapel pin.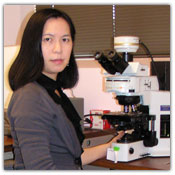 Professor Keiko Torii: http://www.itbm.nagoya-u.ac.jp/en/members/k-torii/
Links:
Related Links and Media Coverage:
2015-04-09