News
Professor Kenichiro Itami, ITbM concludes a collaborative research contract with Taoka Chemical Co., Ltd. for production of graphene nanoribbons.
Profs. Kenichiro Itami (Research Director, JST-ERATO Itami Molecular Nanocarbon Project; Director / Professor of Institute of Transformative Biomolecular Research (WPI-ITbM), Nagoya University) and Hideto Ito (Sub Group Leader, Chemical Synthesis Group, Itami project; Associate Professor, Graduate School of Science, Nagoya University), and Mr. Yuuta Yano (Graduate School of Science, PhD candidate, Nagoya University) succeeded in the precise synthesis of graphene nanoribbons by developing a revolutionary polymerization reaction named "living APEX polymerization."

This research result is expected to be a ground-breaking achievement that opens a new path in the field of materials science as the world's first precision graphene nanoribbon synthesis. A variety of graphene nanoribbons with uniform structures that can be synthesized using the method developed this time will conduct with Taoka Chemical Co., Ltd. Researchers from all over the world expect to accelerate various applied researches related to materials sciences.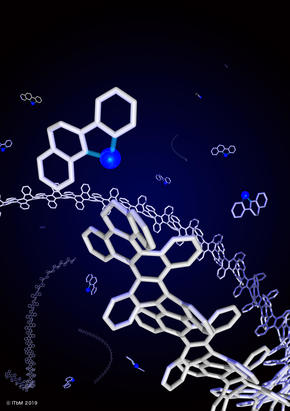 Image of living annulative π-extension polymerization (APEX) Created by Issei Takahashi, ITbM
---
2019-06-28