Events
ITbM Seminar (Dr. Keiichi Masuya)
Date: 2013/5/22
Venue: Noyori Conference Hall, Nagoya University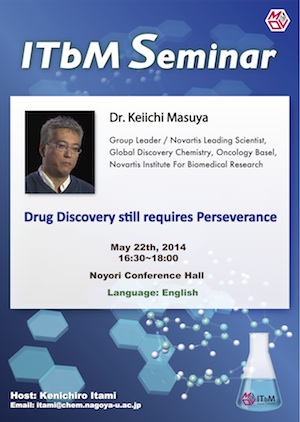 Time: 16:30 - 18:00
Speaker: Dr. Keiichi Masuya
Novartis Pharma K.K.
Title: Drug Discovery still requires Perseverance
Language: English
Dr. Masuya is one of the world-renowned medicinal chemists. He will give us a great success of him entitled 'Drag Discovery still needs Perseverance'. Please forward this mail for the members in your laboratory and, I hope all of you join the seminar and feel globally-advanced drug discovery.
2014-05-01