Events
International ERATO Itami Molecular Nanocarbon Symposium 2017
Date: 2017/8/3-4, Thu-Fri, 9:30〜17:00
Venue: Noyori Conference Hall, Nagoya University
The International ERATO Itami Molecular Nanocarbon Symposium 2017 "The Power of Carbon-based Materials" will be held on August 3-4, 2017 at Nagoya University, Japan. This symposium will focus on recent achievements in the synthesis, utilization, and analysis of structurally well-defined nanocarbons and related materials.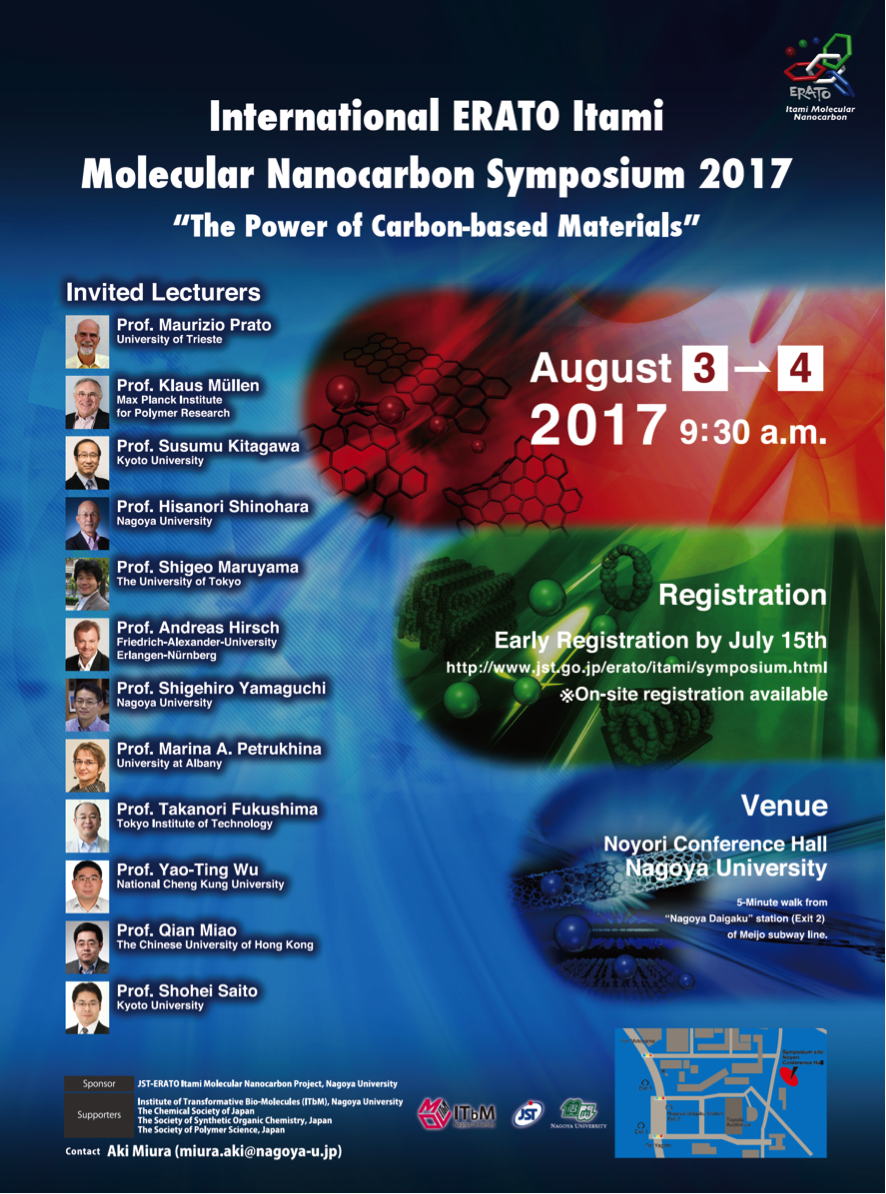 Invited Lecturers:
Prof. Maurizio Prato, University of Trieste
Prof. Klaus Müllen, Max Planck Institute for Polymer Research
Prof. Susumu Kitagawa, Kyoto University
Prof. Hisanori Shinohara, Nagoya University
Prof. Shigeo Maruyama, The University of Tokyo
Prof. Andreas Hirsch, Friedrich-Alexander-Universität Erlangen-Nürnberg
Prof. Shigehiro Yamaguchi, Nagoya University
Prof. Marina A. Petrukhina, University at Albany
Prof. Takanori Fukushima, Tokyo Institute of Technology
Prof. Yao-Ting Wu, National Cheng Kung University
Prof. Qian Miao, The Chinese University of Hong Kong
Prof. Shohei Saito, Kyoto University
Registration: Free of charge
Please register at the following link by July 15th.
http://www.jst.go.jp/erato/itami/symposium.html
*On-site registration available
Sponsored by:
JST-ERATO Itami Molecular Nanocarbon Project
Supported by:
Institute of Transformative Bio-Molecules (ITbM), Nagoya University
The Society of Synthetic Organic Chemistry, Japan
The Chemical Society of Japan
The Society of Polymer Science, Japan
JST-ERATO Itami Molecular Nanocarbon Project
About the JST-ERATO Itami Molecular Nanocarbon Project:
The JST-ERATO Itami Molecular Nanocarbon Project was launched at Nagoya University in April 2014. This is a 5-year project that seeks to open the new field of nanocarbon science. This project entails the design and synthesis of as-yet largely unexplored nanocarbons as structurally well-defined molecules, and the development of novel, highly functional materials based on these nanocarbons. Researchers combine chemical and physical methods to achieve the controlled synthesis of well- defined uniquely structured nanocarbon materials, and conduct interdisciplinary research encompassing the control of molecular arrangement and orientation, structural and functional analysis, and applications in devices and biology. The goal of this project is to design, synthesize, utilize, and understand nanocarbons as molecules.
Links:
Contact:
Aki Miura
JST-ERATO Itami Molecular Nanocarbon Project, Nagoya University
Furo-cho, Chikusa-ku, Nagoya 464-8602, Japan
E-mail: miura.aki@@nagoya-u.ac.jp (Please remove a "@")
Registration is free. Please register by filling out the registration form.
Related Links:
2017-07-07