Events
The 5th Exhibition ITbM Gallery
Date: Fri. 2019/1/11~ Wed. 2019/2/6, *Closed: Wed. 1/23 and Thur. 24
Venue: Entrance Hall, Institute of Transformative Bio-Molecules (ITbM), Nagoya University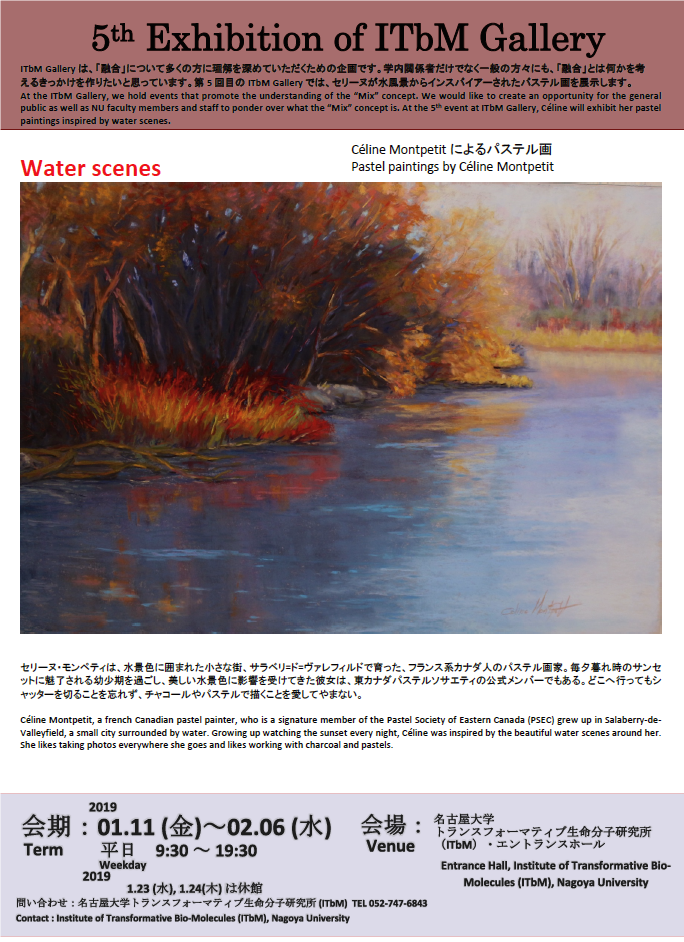 Artist: Céline Montpetit
Title: "Water scenes"
At the ITbM Gallery, we hold events that promote the understanding of the "Mix" concept. We would like to create an opportunity for the general public as well as NU faculty members and staff to ponder over what the "Mix" concept is. At the 5th event at ITbM Gallery, Céline will exhibit her pastel paintings inspired by water scenes.
◆Céline Montpetit:◆
Céline Montpetit, a french Canadian pastel painter, who is a signature member of the Pastel Society of Eastern Canada (PSEC) grew up in Salaberry-de-Valleyfield, a small city surrounded by water. Growing up watching the sunset every night, Céline was inspired by the beautiful water scenes around her. She likes taking photos everywhere she goes and likes working with charcoal and pastels.
Links: