Research Highlights
Making carbon nanosheets from carbon nanorings inside a beaker ~ Bottom-up synthesis of 2D nanomaterials ~
A team of scientists have developed a simple method to synthesize carbon nanosheets, two-dimensional (2D) carbon nanomaterial that possesses high electric conductivity and catalytic function with potential application as new electric material. The carbon nanosheets were synthesized by the self-assembly of carbon nanorings (CPPhen) when added to a beaker containing water under mixing conditions (dynamic air-water interface with a vortex motion), which were then carbonized into molecular nanosheets. This method does not require expensive appliances or sophisticated technology, and the generated carbon nanosheets are expected to have applications in solar cells, touch panels and catalyst layers for fuel cells. This research was reported in the journal, Angewandte Chemie International Edition and was carried out through a collaboration of researchers at the National Institute for Material Science, Nagoya University and the University of Tokyo.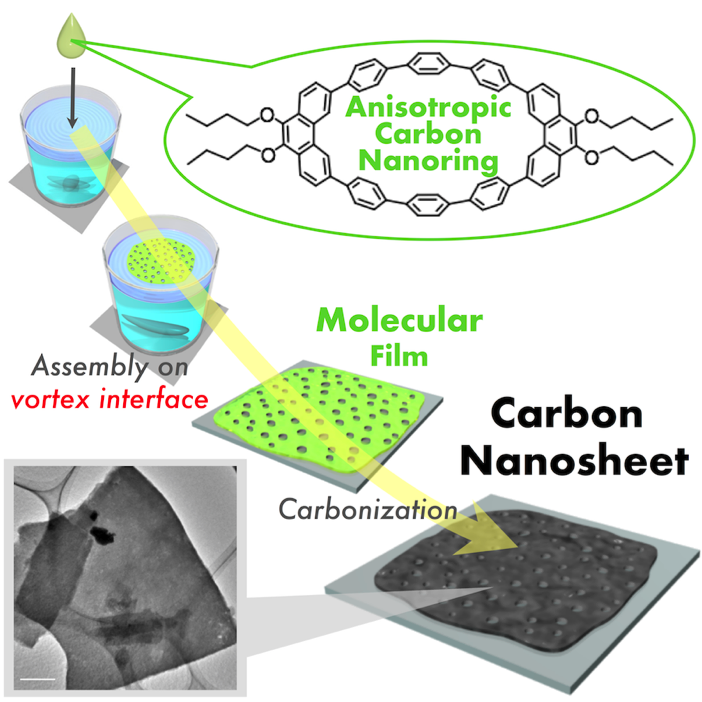 Synthesis of carbon nanosheets using carbon nanorings

Journal Information:
This article "Carbon Nanosheets by Morphology‐Retained Carbonization of Two‐Dimensional Assembled Anisotropic Carbon Nanorings" by Taizo Mori, Hiroyuki Tanaka, Amit Dalui, Nobuhiko Mitoma, Kengo Suzuki, Mutsuyoshi Matsumoto, Nikhil Aggarwal, Archita Patnaik, Somobrata Acharya, Lok Kumar Shrestha, Hirotoshi Sakamoto, Kenichiro Itami, and Katsuhiko Ariga is published online in Angew. Chem. Int. Ed.
Links: