Research Highlights
Discovery of molecules responsible for the growth of pollen tubes
Scientists at the National Institute for Basic Biology, RIKEN and Nagoya University have worked together to uncover the molecules (PICALM5a and PICALM5b) responsible for localizing the protein (ANXUR) at the tip of pollen tube, which is necessary for their growth. When the functions of PICALM5a and PICALM5b were removed, ANXUR was unable to localize at the tip of the pollen tube leading to bursting of the pollen tube during its growth process.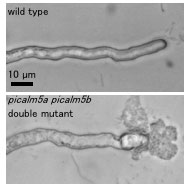 Tips of pollen tubes of the wild type and picalm5a picalm5b double mutant. The pollen tube of the double mutant bursts during its growth.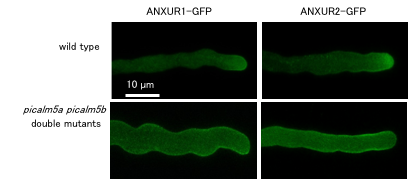 Localization in the pollen tube of the ANXUR protein linked with GFP. ANXUR is localized near the tip of the pollen tube in the wild type, whereas in the picalm5a picalm5b double mutant, ANXUR is widely dispersed throughout the cell membrane.
Journal Information:
This article "ANTH domain-containing proteins are required for the pollen tube plasma membrane integrity via recycling ANXUR kinases" by Keita Muro, Kumi Matsuura-Tokita, Ryoko Tsukamoto, Masahiro M. Kanaoka, Kazuo Ebine, Tetsuya Higashiyama, Akihiko Nakano & Takashi Ueda is published online in Communications Biology.
DOI: 10.1038/s42003-018-0158-8
Links: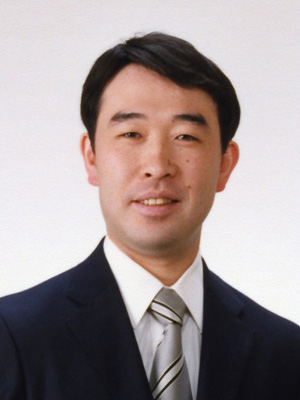 2018-10-02
« Back to Research Highlights Top