Events
ITbM-IGER Seminar (Prof. Sugimoto & Dr. Samejima)
Date: 2017/3/22, Wed. 14:00〜15:30
Venue: Lecture Room, ITbM building 1st floor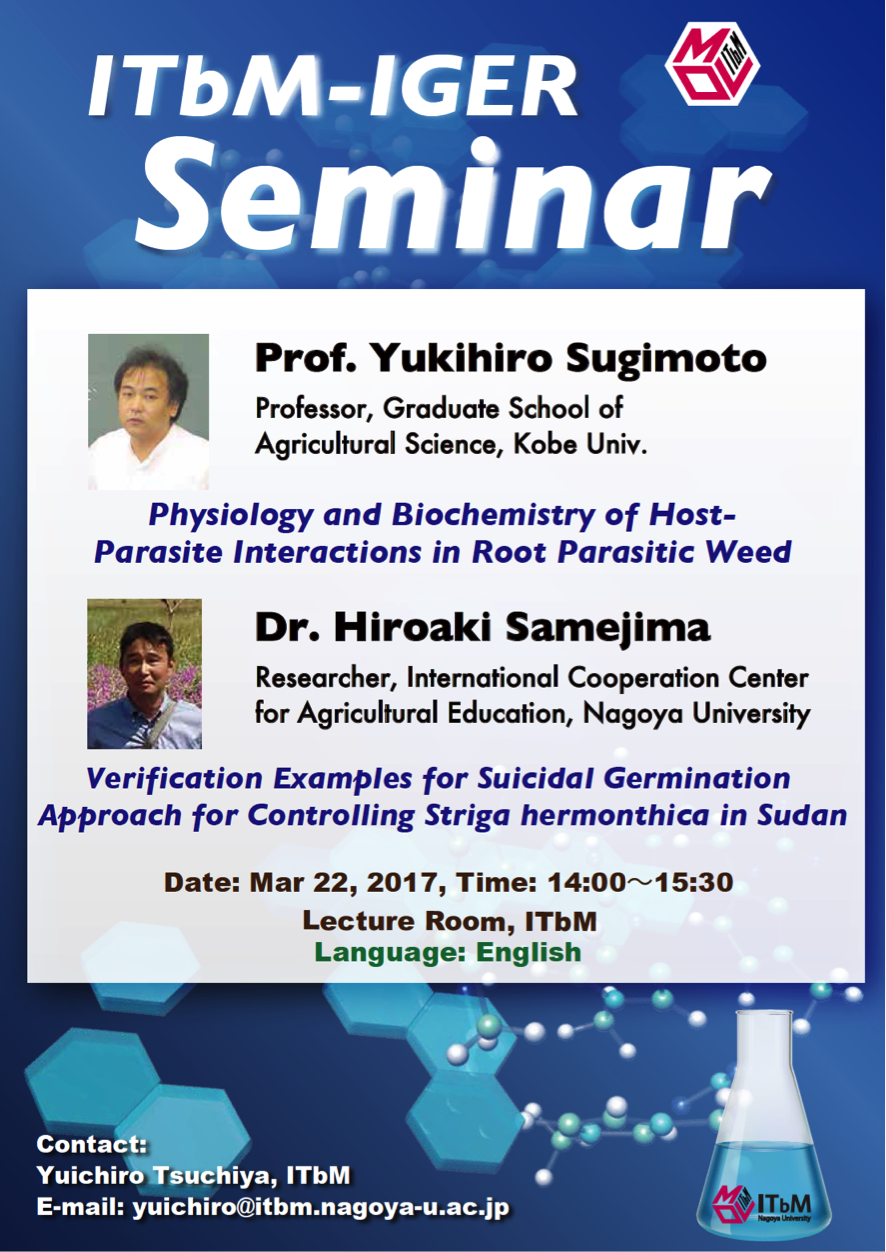 Speaker 1: Prof. Yukihiro SUGIMOTO (Graduate School of Agricultural Science, Kobe University)
Title: "Physiology and Biochemistry of Host-Parasite Interactions in Root Parasitic Weed"
Speaker 2: Dr. Hiroaki Samejima (International Cooperation Center for Agricultural Education, Nagoya University)
Title: "Verification Examples for Suicidal Germination Approach for Controlling Striga hermonthica in Sudan"
Language: English
Profile:
Prof. Sugimoto is a bioorganic chemist. His research interests are to analyze biosynthetic pathways of secondary metabolites, to search and determine the structure of useful plant secondary metabolites, and to identify the regulation of root parasitic plants' biological life cycle. He has isolated several strigolactones, synthesized their analogues, and engaged in the germination control of root parasitic plants in the last decades. He is one of the awardees of the SATREPS 2009 and SATREPS 2016 which allow him to do researches as practical application on the field in Sudan to strike out against Striga. Dr. Samejima worked with Prof. Sugimoto, observed Striga-resistances in tropical rice crop in Sudan. And collaborated with the Sudan university of Science and Technology, he encouraged education for not only young researchers but local farmers to develop better food productivity. Now, he is a research fellow of Nagoya university International Cooperation Center for Agricultural Education, and is working on evaluation of Striga hermonthica with upland rice varieties available in Kenya.
Links:
2017-03-13